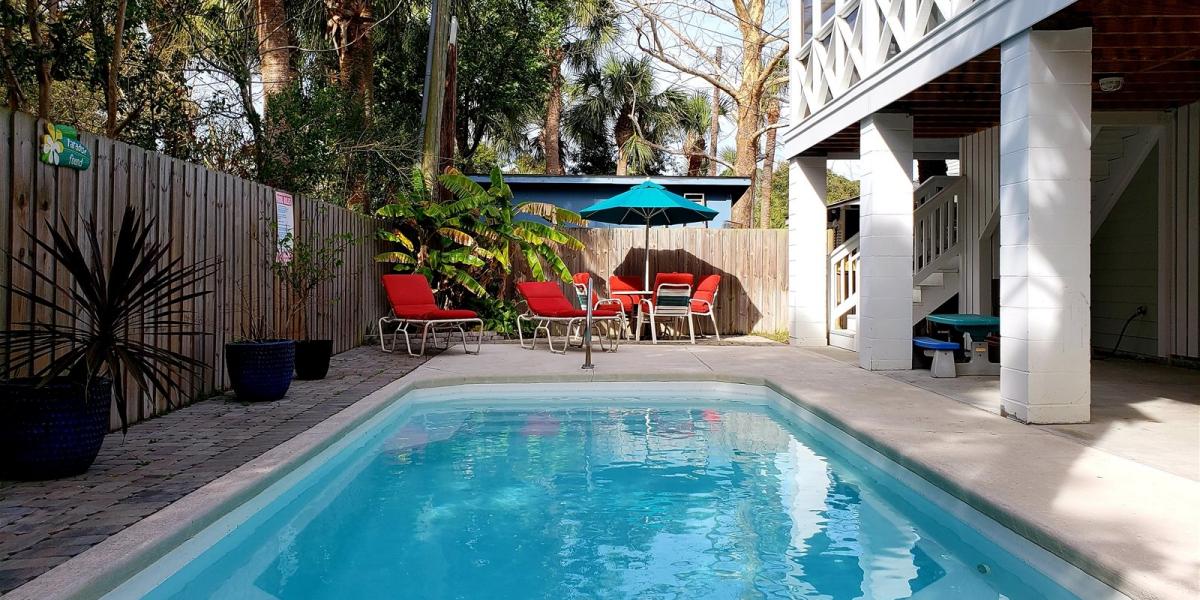 Article
These Vacation Rentals are
Sure to Make a Splash!
From large multi-family homes to vintage cottages nestled steps from the beach, you're practically guaranteed to find the ideal vacation rental for your next trip to Tybee Island. No need to choose between swimming in the ocean waves or floating quietly in your own pool. Have the best of both worlds when you choose from the Tybee Beach Vacation Rentals below!
Sixth Avenue
This modern 4-bedroom home is nestled steps away from Tybee Island's quiet Back River and offers a beautiful balcony overlooking your very own private salt water pool. There's plenty of comfortable living space to house your closest friends and family!
4 Bedrooms | 2.5 Baths | Sleeps 10 | Details
Eagles Nest
This newly-redecorated home is a great vacation rental for your next family vacation to Tybee Island. Enjoy the quiet surroundings on your balcony or take a dip in your private swimming pool. Take a brisk walk to the Tybee Island Lighthouse or dine at North Beach Bar and Grill when you stay at this North Beach vacation rental.
4 Bedrooms | 3.5 Baths | Sleeps 14 | Details
Wheel House
This historic home was built in 1920 and served as one of the 3 train stations located on Tybee Island. After a long day of exploring the island, take a relaxing soak in your jetted tub or swim some laps in your private swimming pool. Spend the evenings hanging out with your travel buddies and try your hand at foosball or air hockey games.
6 Bedrooms | 5.5 Baths | Sleeps 19 | Details
STRAND AVENUE
Wake up to spectacular vistas of Tybee Beach from this luxurious oceanfront duplex. Just a few short steps from Tybee's most iconic attractions on South Beach, you'll be able leave the car parked throughout the duration of your trip. What more could you ask for?
6 Bedrooms | 4.5 Baths | Sleeps 12 | Details
LIGHTHOUSE POINT
Nestled in Tybee's Lighthouse Point Beach Club, this vacation rental offers a variety of outdoor amenities. You'll have access to the neighborhood's two freshwater pools, a wading pool for young children, and easy access to the beach. North Beach is filled with great attractions like the Tybee Island Lighthouse and Museum, as well as great shops and restaurants.
2 Bedrooms | 2 Baths | Sleeps 6 | Details
No matter what brings you to Tybee Island, these Tybee Beach Vacation Rentals are sure to keep you outdoors longer!