List
Top 5 Most Photographed Places
on Tybee Island
Visitors flock to our barrier island to soak in the sun and participate in all the fun that makes Tybee Island unique. So, grab your camera and take a selfie at one (or all) of our most photographed places on Tybee Island!
Capture everything from a beautiful sunset on Tybee's Back River to the stunning views atop Georgia's tallest lighthouse. These 5 spots really make our island so charming, don't you think?
---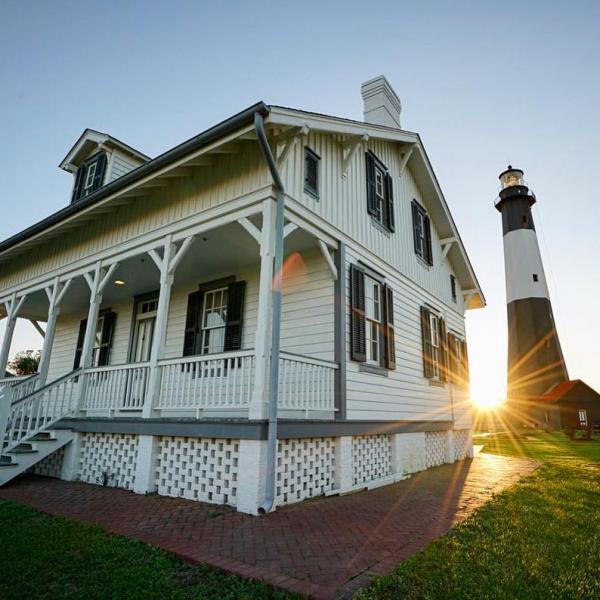 Tybee Island Lighthouse
The Tybee Island Lighthouse is a historic beacon that you can't miss on your visit. Known as Georgia's oldest and tallest lighthouse, this attraction is well worth the small admission and the 178 steps to the top. So, lace up your sneakers and prepare for jaw-dropping 360-degree views of Tybee Island from the top!
Tybee Island Pier & Pavilion
Locals and visitors know that a trip to the beach is not complete without a walk down the Tybee Island Pier and Pavilion. Depending on your preference, grab an ice cream or margarita at the Riptide Bar / Sweet Dreams in the pavilion before walking down to watch the fishermen reel in the catch of the day. Pose for a selfie or simply snap your views of the Atlantic and Tybee's iconic South Beach strip.
Photo courtesy of @j_banks via Instagram.
Tybee Island Welcome Sign
You know you're on Tybee Time when...you see that iconic 'Welcome to Tybee Island' sign, of course! With parking available safely away from traffic, feel free to pull over and snap a photo to commemorate the beginning or the end of your time on Tybee.
Back River Sunset
There are not many beach destinations that offer up stunning views of both sunrise and sunset every day. Time and time again, our visitors can't get enough of our sunsets from Tybee's Back River Beach. Better known as our "secret beach", chances are you'll be able to soak in the last moments of the warm sunshine in quiet bliss with the low hum of a passing boat or splashing from the local dolphins. We can't blame them; this view is worth 1,000 words!
The Beach, of course!
Did you even go to the beach if there aren't pictures to prove it? Of course! But we should warn you, with 5 beaches to choose from, you'll spend your afternoons experiencing the unique appeal that so many find hard to turn away from on Tybee Island. From gathering seashells on North Beach to dipping your toes in the sand along the southernmost point on the island, have your camera handy because you never know what you'll see along the way.
Whether you're a novice or professional photographer, you'll love snapping these most photographed places on Tybee Island! Be sure to use the hashtag #VisitTybee to share your experiences with us and be featured on our social media channels.