List
Most Unique Rooms
on Tybee Island
There are plenty of places to stay on Tybee Island but why choose ordinary? These unique rooms not only come with amazing amenities but they are sure to make your experience on Tybee Island all the more memorable. 
1
Apartment at Dunes Inn
Spread out after a day in the sunshine in your private apartment at Dunes Inn & Suites! Located only 100 yards from the beach, this 2 bedroom/1 bathroom apartment offers all the luxuries of a hotel and the spaciousness of a vacation rental. Apartment guests can feast on a home-cooked meal in the apartment's private kitchen or enjoy complimentary breakfast in the hotel lobby, take a dip in the hotel pool before lounging on the couch in a cozy coastal living room and much more. 
2
Love Shack at Beachview Inn & Spa
Sneak away with your sweetie at Beachview Inn & Spa's Love Shack! This quaint guest cottage offers a king-sized bed, morning kitchen, full bathroom and a Jacuzzi tub – making it the perfect lodging choice for a couple in love. And if that laundry list of features wasn't enough, this precious hideaway also includes a screened porch, semi-private swimming pool, outdoor shower, back deck with gas grill and a widow's walk. 
3
Poseidon Suite at Atlantis Inn
Sleep like ocean royalty in the Poseidon Suite at Tybee's Atlantis Inn! With a raised, four-poster bed, Jacuzzi tub and sculptures adorning every corner – this suite is, literally, built for a king. Snuggle with your sweetheart on the suite's private balcony or next to the room's working fireplace during your Atlantis Inn romantic rendezvous. 
4
Royal Palms Motel
Recently renovated, the rooms at Royal Palms Motel are an interior designer's dream. Each room includes modern décor with a kitschy flair and plenty of color. From the bright blue, vintage-style microwave to the brightly-colored headboards to the unique wallpaper – each design detail was well-thought-out and exceptionally executed in this uniquely Tybee motel.
5
Sunrise Suite at Surf Song Bed & Breakfast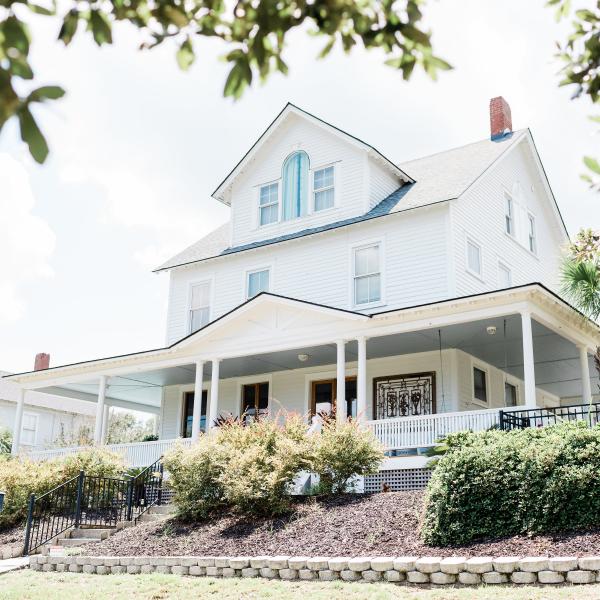 Catch a glimpse of ships passing by or dolphins jumping through the waves inside the Sunrise Suite at Surf Song Bed & Breakfast. Offering unparalleled ocean views, a king-sized bed, kitchenette, living area and a separate nook with a queen-sized bed – it's easy to see why The Sunrise Suite is the most sought-after accommodation at this local inn.
6
The Aft Deck at Tybee Island Inn
Built in 1902 as part of the Fort Screven Hospital, the Tybee Island Inn has been providing guests comfort for over a century. This bright yellow bungalow can bring a smile to any face and its rooms are each uniquely themed. The Aft Deck includes coastal décor details, two queen-sized beds AND a spiral staircase leading to a loft – making it perfect for a family with children, multiple couples and more. 
7
Honeymoon Suite at DeSoto Bed & Breakfast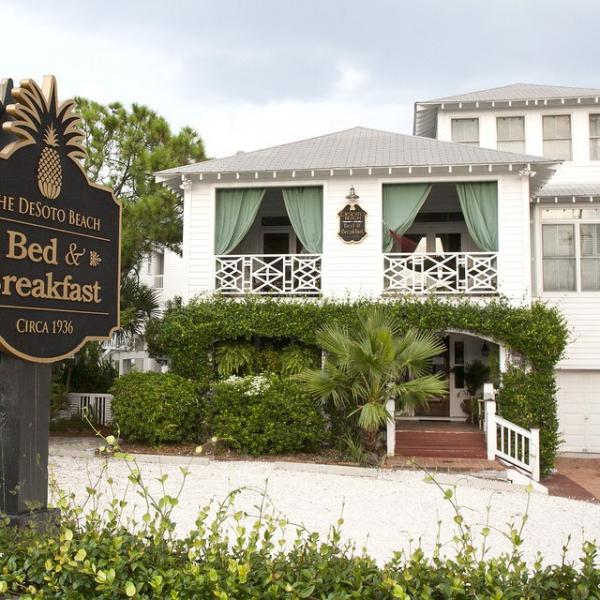 Take a long soak in the decadent Roman Claw Tub after a day of sunbathing when you book the Honeymoon Suite at DeSoto Bed & Breakfast. The only suite on the inn's top floor features gorgeous ocean views and a large private balcony, located only steps away from the ocean.
Be sure to check out all these unique places to stay on Tybee Island for your next visit! You'll have just as much fun enjoying your room as you will exploring Tybee Island.