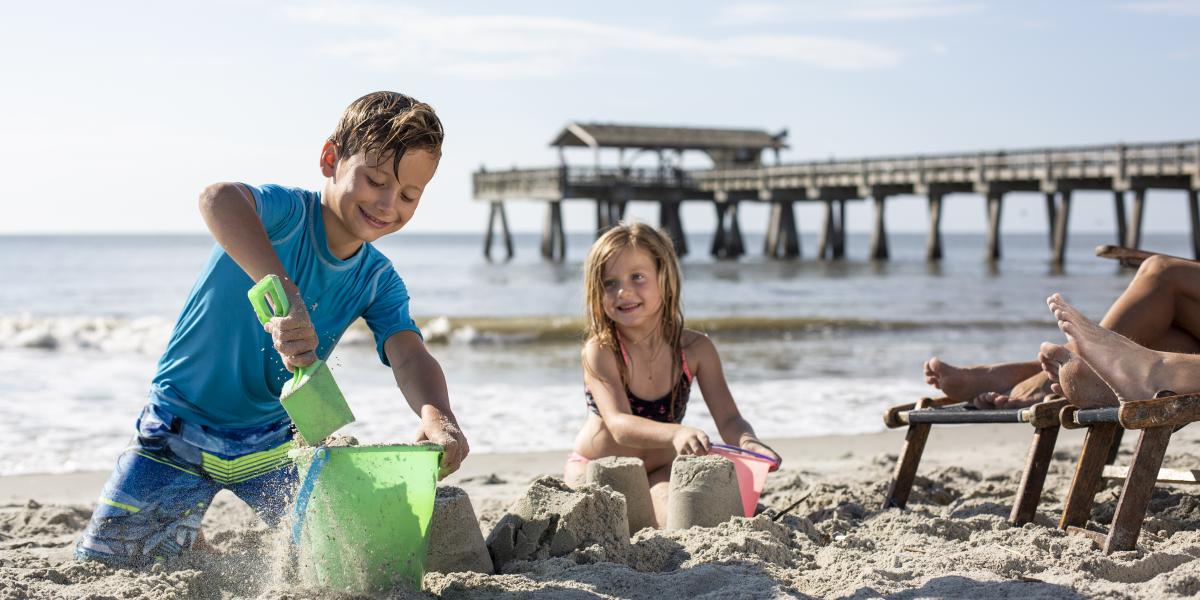 Article
How to Build the
Perfect Sandcastle on Tybee Island
For those who might be unsure of what constitutes the perfect sandcastle on Tybee Island, we've made a list of our best tips and tricks for creating sandy memories that will last a lifetime.
---
1
Find the Perfect Beach Spot
When finding the ideal place to start building your sandcastle, don't overlook the importance of location. Aptly named Sandcastle Inn, this local hotel is situated just steps from the best sand building spots on Tybee Island. Once on the beach, you'll want to find somewhere just close enough to the water but not so close that you'll be washed out when the tide changes.
2
Bring the Right Tools
Making a sandcastle checklist is a great way to ensure that no tool is left behind. Pack the essentials like sand shovels, water pails, even toy bulldozers can do the trick! Forgot your sandcastle building tools at home? Don't fret, there are plenty of local shops that can help restock the necessities before heading to the beach.
3
Patience and Perseverance
Quality sandcastle building takes time and doesn't always go according to plan. Be prepared to lose portions of your hard work to rogue waves, misjudged footsteps and most of all, pesky siblings. Those who stick with it will most likely enjoy the fruits of their labor at the end of the beach day.
4
Smile for the Camera
Once completed, don't forget to photograph your hard work so you can admire your sandcastle for years to come! Nothing beats having proof that you did, in fact, build the best sandcastle on Tybee Island!
5
Rest and Repeat!
A hard day at the beach deserves a restful and relaxing evening! We suggest booking your stay at none other than the Sandcastle Inn. This island inn is located just one block from the beach and within walking distance to many of the island's shops and restaurants. Better yet, they offer some of the most affordable rates on Tybee Island! You'll be happy you stayed so close to the shore when you head out the next day to build an even bigger sandcastle.