List
Condo Vacation Communities
for Every Tybee Beach
Known for wide, clean beaches that offer warm, gentle waves, it should come as no surprise that visitors flock to Tybee Island for a beach experience unlike any other.
With over 3 miles of beautiful beaches to choose from, every shoreline offers something different for every traveler. Those looking to stay in a beachfront vacation condo will be happy to hear that Tybee Vacation Rentals offers a unique stay experience at every one of our pristine beaches.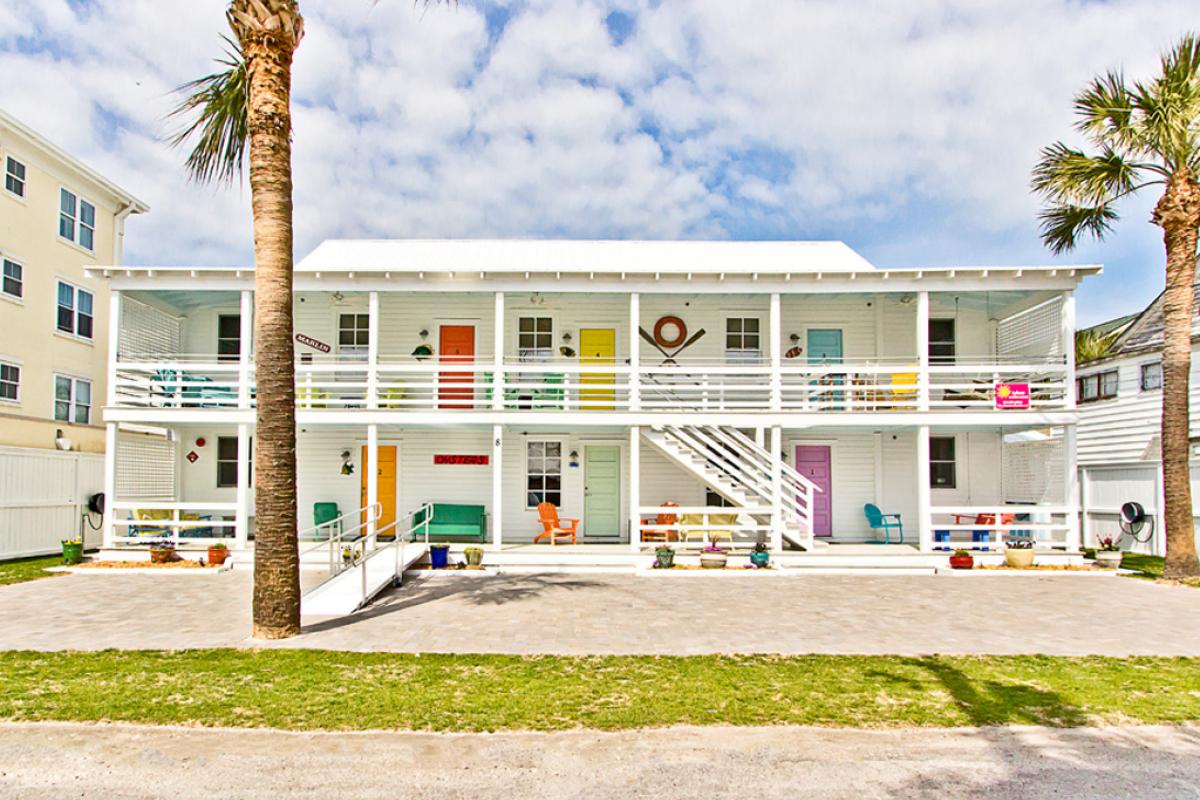 1
South Beach
Tybee's South Beach is located next to Tybee's main business district and within a few blocks of the island's most beloved restaurants, bars and ships. Often referred to as the most popular beach on the island, the area is home to many iconic attractions like the Tybee Pier and Pavilion as well as the Tybee Island Marine Science Center.
Nestled just a short distance from the main beach stretch lies the historic Beachwalk Apartments. Known for their colorful island doors, this community is perfect for those looking to walk to and from their rental during their stay. To view all available condos, click here.
2
Mid Beach
Frequented by locals and those who prefer less crowded areas, Tybee's Mid Beach offers a great option for those looking to stay just a short distance from downtown. Families enjoy the area's close proximity to several restaurants, YMCA and Memorial Park which features a wonderful playground as well as basketball, volleyball and tennis courts.
The Tybee Lights community is located directly on the beach and feature spectacular oceanfront views from every condo. Enjoy watching the sunrise every morning from the comforts of your private deck. To view all available condos, click here.
3
North Beach
Tybee's sheltered North Beach is located at the mouth of the Savannah River surrounding the historic Fort Screven district. This beach is perfect for spotting dolphins and viewing international container ships as they travel to and from the Port of Savannah. Just steps from the beach lies the Tybee Island Light Station and Museum as well as the Caribbean-inspired North Beach Bar & Grill.
Located within this quiet section of Tybee Island lies the condominium complex of Lighthouse Point. For those looking for great vacation rental amenities, this gated community features private beach access, tennis courts, community WIFI access, playground, two large swimming pools and a kid pool. To view all available condos, click here.
4
Savannah River Beach
Savannah River Beach is the riverfront portion of North Beach that features low waves and quiet surroundings. Wildly popular with families, this beach is ideal for dolphin spotting and ship watching. Visitors should keep in mind that this beach is not as easily accessible as the other beaches but can be reached by walking from the North Beach parking lot.
The Tybee Beach & Racquet Club is a beachfront community located on the quiet end of Tybee Island where the Savannah River meets the Atlantic Ocean. Visitors of the gated community enjoy more space and amenities like kitchens, private balconies, tennis courts and so much more. Families flock to the community pools and enjoy staying connected using the outdoor WIFI. To view all available condos, click here.