Sponsored Article
Plan Your Tybee Wedding at This
All-In-One Island Hotel
Imagine waking up on your wedding day and stepping onto your private hotel balcony with panoramic views of the sun rising over the Atlantic. Even better, all of your wedding activities are just steps away, overseen by experienced staff, leaving you to *actually* enjoy your special day. All of this (and more) is possible when you plan your Tybee Island wedding at Hotel Tybee.
Located just steps from Tybee's popular South Beach, this island hotel has been serving beloved brides and grooms for decades. Learn more about why Hotel Tybee should be at the top of your Tybee Island wedding checklist.
All-in-One Accommodations
Dreaming of an all-in-one destination wedding on Tybee Island? Look no further than Hotel Tybee! With 208 guestrooms, this beachfront hotel serves up historic charm complete with modern comforts and PLENTY of space to host rehearsal dinner, wedding ceremony, reception and a day-after brunch. Wedding guests will enjoy their clean, comfortable overnight accommodations as well as the convenience of staying in one place for all wedding events and activities. 
Unbeatable Ocean [Grand] Views 
Hotel Tybee's Grandview Conference Center offers a variety of flexible spaces for island weddings and receptions. There are - literally - endless possibilities to planning your perfect island event. If that isn't enough, this space serves up stunning panoramic views of the ocean.
Professional Team of Experts
Hotel Tybee's dedicated staff of professionals host dozens of weddings every year. They cater to events of all sizes and go the extra mile to ensure that every need is met and that everyone has a great time. What more could you ask for?
Central Location
In addition to being located only 100 feet from Tybee Island's iconic South Beach and the Tybee Island Pier, this beach resort is also within walking distance to many of the island's great restaurants! Wedding guests will enjoy free parking throughout their stay and can easily experience the town by foot, bike or taxi. For those who want to head into town during their trip, Hotel Tybee is just a short drive from downtown Savannah. Talk about the best of both worlds!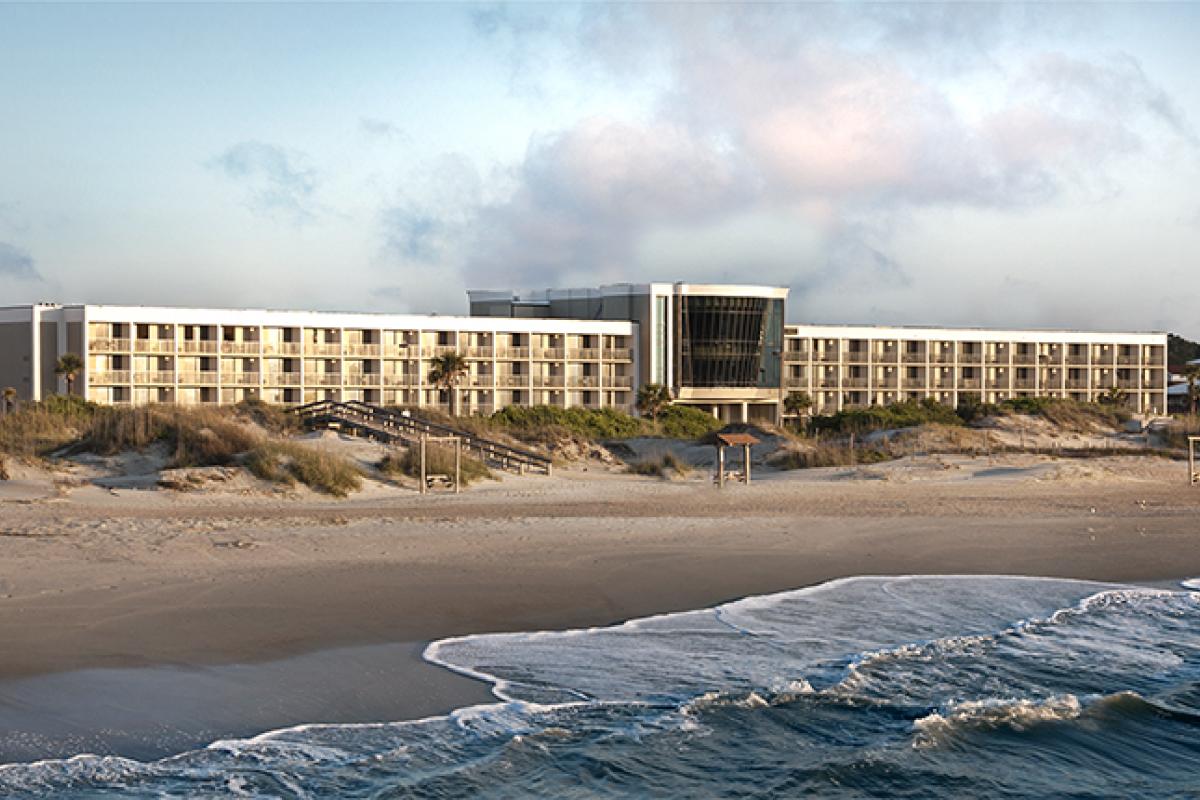 Unique Island History
This iconic beach resort was originally built in 1889 and was burned down after a massive fire in 1909. Recently, the hotel has remodeled its 208 guestrooms and is the largest hotel on Tybee Island! Hotel Tybee loves to pay homage to its history and thrives on bringing people together to enjoy what makes the island so special. 
From stunning sunrises to stress-free planning, Hotel Tybee is an ideal venue for a beachfront destination wedding. Relax knowing that their experienced staff is there every step of the way to make your Tybee Island dream wedding become an unforgettable reality.