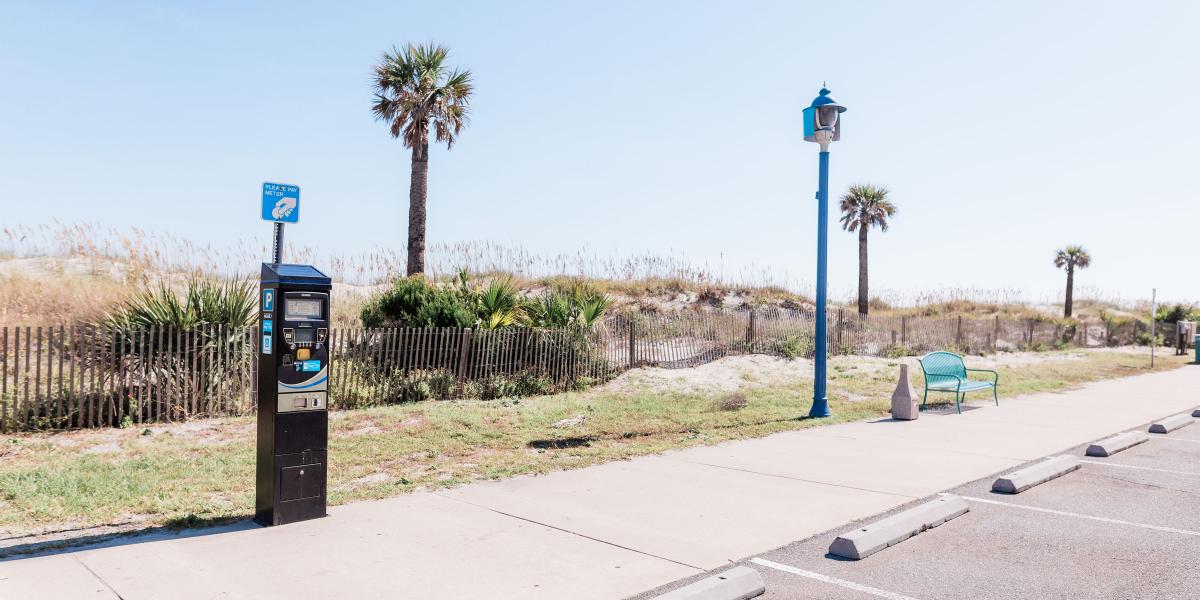 Info
Parking on
Tybee Island
Where to Park
Tybee offers many public parking sites and metered spaces for your convenience.
Main parking locations:
South Beach Parking Lots: Beachfront lots between 14th and 18th Streets, adjacent to the main beach business district and the Walter Parker Pier and Pavilion. These lots are reached by traveling down 14th Street or Tybrisa
North Beach Parking Lot: Beachfront lot in Fort Screven immediately across from the Tybee Island Lighthouse
Van Horne and Fort Streets: In close proximity to both Dog Parks and to River's End Campground & RV Park, it is a short walk from this lot to the river beaches or to the North Beach area near the Lighthouse
Dune crossovers: Most of the streets adjacent to beach access points have public parking available
Additional spaces are located throughout the Business Corridor
No RV parking permitted from March to October at Jaycee Park, North Beach, 14th and 16th street beach parking lots. RVs are only permitted to park at River's End Campground & RV Park or Highway 80 at Butler Avenue and must pay for the number of spaces used.
No bus parking year round in all public parking lots. Bus parking is only permitted at Memorial Park on 4th street or on Pulaski Street near the Tybee Island Light Station (as marked). 
Parking at Jaycee Park, Memorial Park and the Tybee Oaks Shopping District is pay-to-park.
Pay to Park Community
Tybee parking fees are more than just a necessity. They help preserve our seaside town by helping to:
Keep the beaches safe and clean
Maintain the dune cross overs to protect the dunes and provide a walkway for folks to get to the beach
Provide mats for handicap access to the beach
Renourish beaches
Provide lifeguards
Provide police patrol for the beaches
These prices are in effect from 8 AM – 8 PM, 365 days a year.
Park TYB Mobile App
The Tybee Island mobile parking app makes paying for parking a breeze from your beach chair. Available on the Apple Store and Android Play Store, visitors can download the free PARK TYB mobile app and park anywhere they see Park TYB mobile app signs & decals.
How to Access the Park TYB Mobile mobile app:
Search PARK TYB on your device
Download for free
Sign Up using your phone number
Verify your phone number with a 3-digit code sent via text message or phone call
Create a PIN
Add vehicle using your license plate number and state
Pick your zone and add time to your digital meter. $4/hour with a 2-hour minimum
Decal Parking
Decals may be purchased from the cashier at Tybee City Hall at 403 Butler Avenue for $200.00 each and are valid for one year from the month of purchase. Parking decals are available for anyone to purchase (local or visitor). Tybee residents whose vehicles are registered to Tax District 3 may receive a free decal by presenting the paid auto tag license receipt to the cashier at Tybee City Hall. Decals must be affixed to the driver's side windshield to be considered valid; decals on the dash are ignored. Motorcycle decals should be placed high and visible on the right side front fork.
Vehicles with decals may park at any legal parking space, including public parking lots, at no additional charge.
If you have any questions, or if you wish to contest a parking ticket, please feel free to contact the Tybee Island Parking Services Division at City Hall by calling (912) 786-4573, ext. 135.
Tickets may be paid online at www.cityoftybee.org, by telephone at (912) 786-4573, ext. 102, or in person at City Hall. City Hall is open from 8 AM until 5 PM, Monday through Friday.