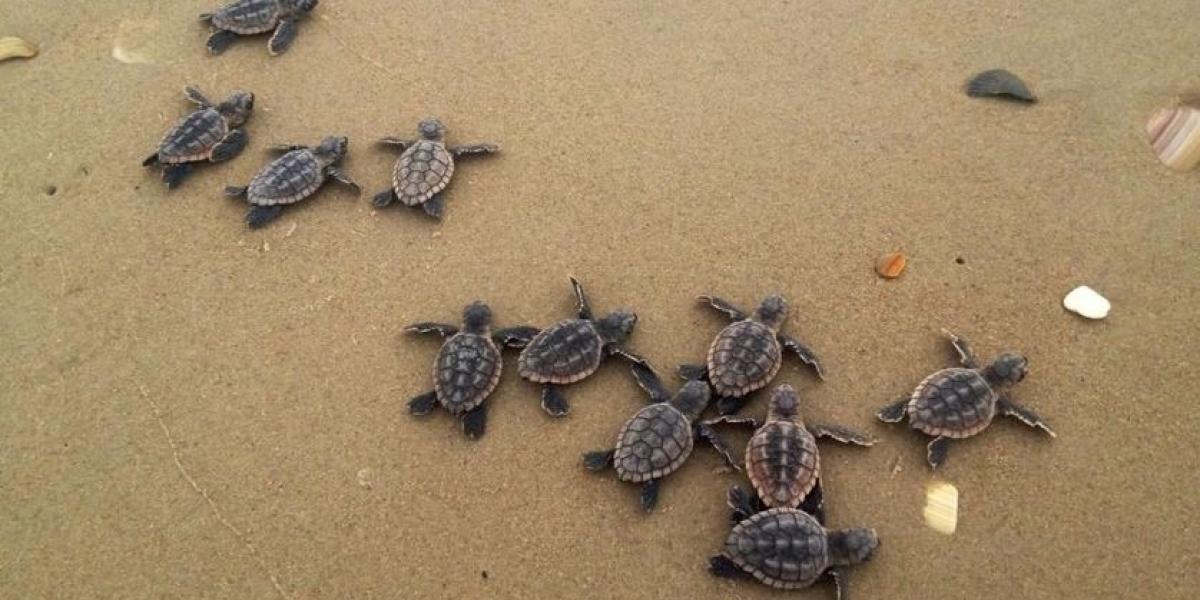 Article
10 Fascinating Facts
About Loggerhead Sea Turtles
From May 1 to August 31 each year, female Loggerheads search for a safe spot on Tybee's soft sands to nest their eggs near the ocean. In honor of this special time on our beautiful island, we've compiled a list of Loggerhead sea turtle facts worth knowing.
1. A FEMALE LOGGERHEAD SEA TURTLE MAY TRAVEL THOUSANDS OF MILES TO NEST HER EGGS ON THE SAME BEACH WHERE SHE HERSELF HATCHED AS A BABY.
Swimming Loggerhead. Photo courtesy of SEE Turtles.
2. WHEN SEARCHING FOR A PLACE TO NEST, FEMALE LOGGERHEADS LEAVE WAVY TRACKS ON THE BEACH, COMMONLY KNOWN AS "CRAWLS."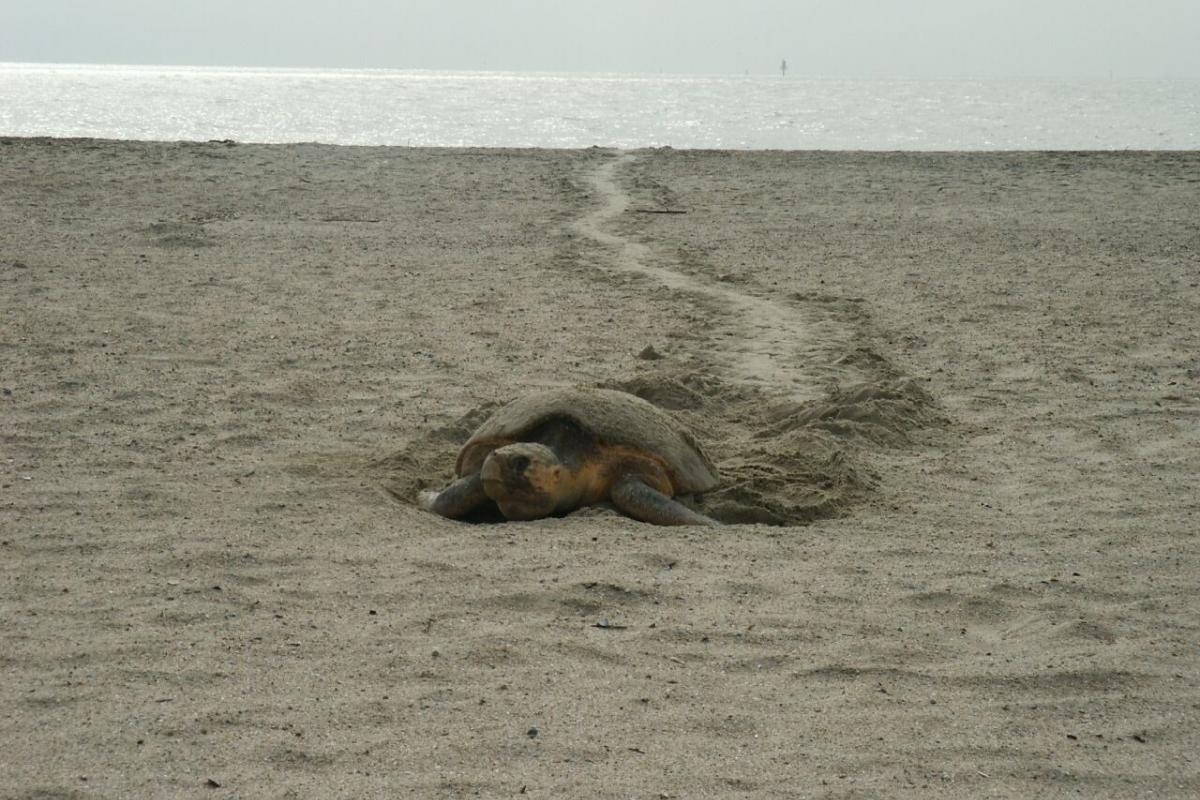 3. NEWLY HATCHED LOGGERHEADS ARE ONLY TWO INCHES LONG, BUT GROW INTO 3-FOOT-LONG, 250 LB. ADULTS.

Baby Loggerhead. Photo courtesy of Tybee Island Marine Science Center.
4. SEA TURTLES USE THE MOON AND STARS' REFLECTIONS ON WAVES TO FIND THEIR WAY BACK TO THE OCEAN.
Loggerhead Nesting at Night. Photo courtesy of Tybee Island Marine Science Center
Artificial lighting from beachside communities can confuse the turtles, so Tybee Island has installed turtle-friendly lights island-wide.
5. TEMPERATURES DURING EGG INCUBATION PERIODS DETERMINE THE SEX OF THE HATCHLING.
Loggerhead Sea Turtle Eggs. Photo courtesy of Earth Sea & Sky.
Hatchlings are predominately male if incubation temperatures are under 85°F and are predominately female if temperatures are over 85°F.
6. ONE IN 1,000 BABY SEA TURTLES WILL LIVE TO ADULTHOOD.
Adolescent Loggerhead Turtle. Photo courtesy of Tybee Island Marine Science Center.
Their life expectancy is about 47-67 years.
7. LOGGERHEAD SEA TURTLES ARE ON THE INTERNATIONAL ENDANGERED SPECIES LIST.
Resting sea turtle. Photo courtesy of Katie Storr.
8. LOGGERHEADS HAVE VERY STRONG JAWS THAT ENABLE THEM TO EAT HORSESHOE CRABS, CONCHS AND OTHER HARD-SHELLED CREATURES.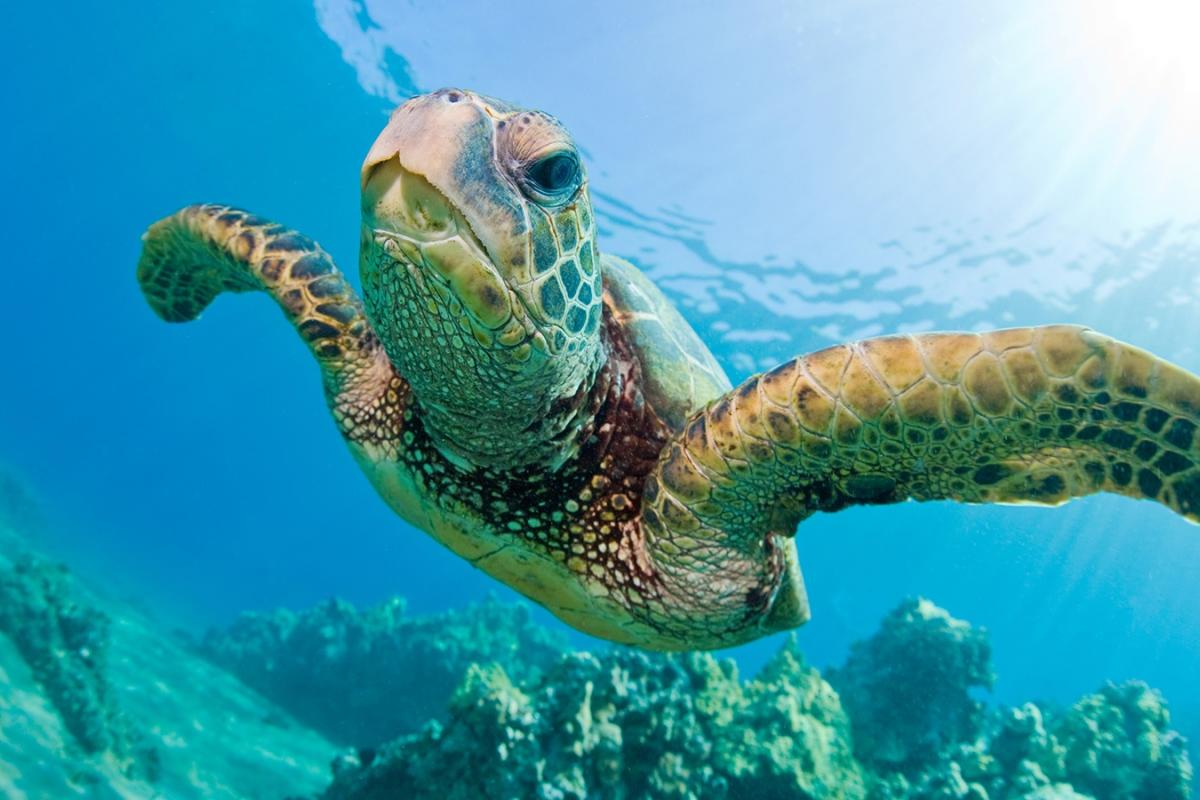 9. THIS SPECIES HAS BEEN ON EARTH FOR 110 MILLION YEARS.
Loggerhead swimming. Photo courtesy of National Geographic.
10. THE FIRST SEA TURTLE TO BE TRACKED ALONG AN OCEAN BASIN WAS NAMED "ADELITA."
The Tybee Sea Turtle Project is a conservancy group made up of volunteers at the Tybee Island Marine Science Center to protect these magnificent marine creatures. Do your part while visiting our beaches by cleaning all trash and debris, avoiding sea turtle nests and turning off lights on the beach after 10 p.m.