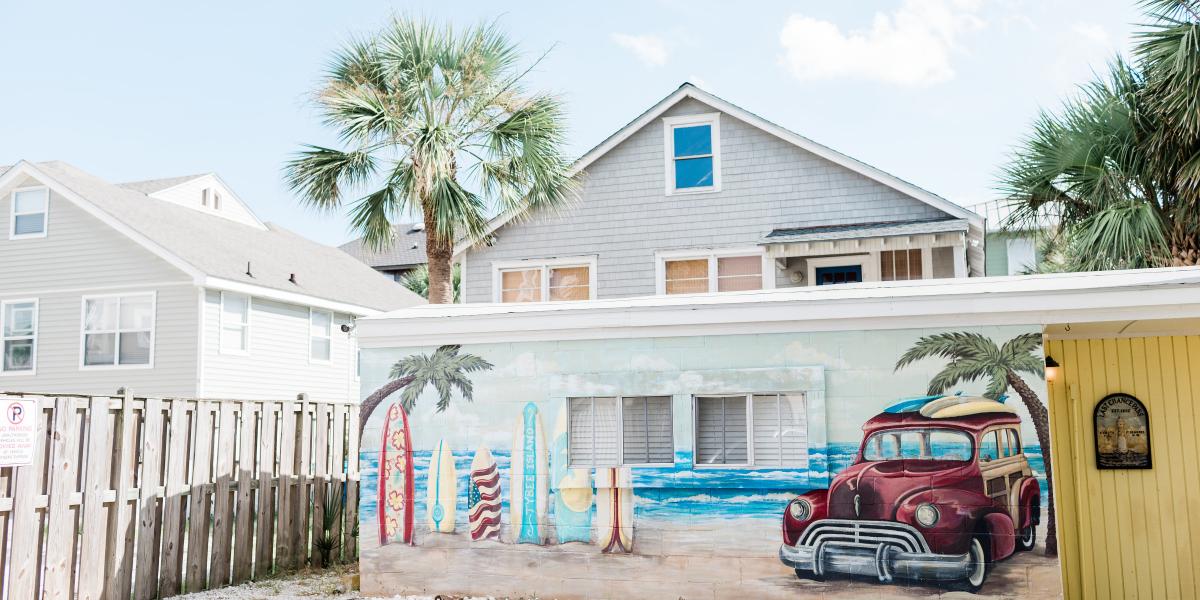 Info
Tybee Island
Story Ideas
Tybee Island has a story to tell – it just needs someone to tell it. Provided below are story ideas to help jump-start your piece. The Visit Tybee staff is available for additional information, fact checking, and leads on sources.
An Inn-Siders Look
Several historic homes on Tybee have been converted into charming coastal inns and B&B's. From beachside views to tucked-away havens, readers will love planning which quirky Southern inn they will book on their trip to Tybee.
Call of the Wild
For readers interested in wings and fins rather than surf and sun, Tybee's natural beauty is a marvel. Bird watching, marine eco walks and camping on uninhabited Little Tybee Island are a few options that will make readers want to go wild.
Iconic Festivals and Parades
Festivals and parades are a part of the fabric that makes up Tybee Island. From one day events like the SCAD Sand Arts Festival and Beach Bum Parade, to longer affairs, such as the island's signature Tybee Wine Fest and Pirate Festival, almost every month holds host to a festival or parade that readers far and wide will be interested in.
Girlfriend Getaway in the Off-Season
Visiting the beach during the summertime is a yearly tradition for many families. But the off-season is the perfect time to start a girl's getaway to Tybee tradition. Picture curling up in a sweater with a glass of wine and your closest friends as you enjoy the crisp ocean breeze and watch the waning sun. What could be better than that?
Go Where the Locals Go
Having a little local knowledge when going somewhere new on vacation can go a long way to having a more satisfying trip. Give your readers tips on Tybee treasures only locals know about, such as North Beach Bar & Grill and Seaside Sisters. Some Tybee businesses take their phones off the hook during the high season, so swing by and stop in even if you get a busy signal.
Man Trip
Girlfriend getaways are great. But what about a man trip where boys can be boys? Go fishing off the pier, race jet skis, camp on Little Tybee Island, and sip on a beer while watching the sun go down over the back river. Male readers will jump at the chance to escape the daily grind on laid-back, unpretentious Tybee Island.
Eat Your Way Around Tybee
Chowing down on a plate of fried shrimp can be just as fun as soaking up the sun on the beach. Explore and discover Tybee's restaurants, from casual spots like Fannie's on the Beach, to the edgier The Deck Beachbar, the food on our island has a story to tell that your readers will eat up.
Adventures on the Water
Explore the back rivers of Tybee by paddleboard, kayak to the historic Cockspur Island Lighthouse, or get the wind and water spray in your face speeding into the channel on jet skis. These are a few ways to explore the beautiful outdoors on Tybee Island. When your readers are looking for something other than a beach chair and book by the ocean, their search will end with your story on Tybee's watersports.
Just the Two of US
Couples searching for a romantic weekend getaway destination will love what Tybee has to offer. Walks on the beach, dinners overlooking the marsh at sunset, and cozy island cottages and B&Bs are the perfect recipes for romance.
Tybee Then and Now
When railroads were king, long skirts and parasols were in fashion and the days of old-time ritzy beach resorts were alive, Tybee was a haven for city dwellers sweltering in the Southern heat. Luxury beach resorts, such as Hotel Tybee, were a mecca for the affluent looking to dip their toes in the water. Revive for your readers the times when big hats and big bands on the pier were in vogue. The current revival of historic Hotel Tybee makes this old tale today's newest story.