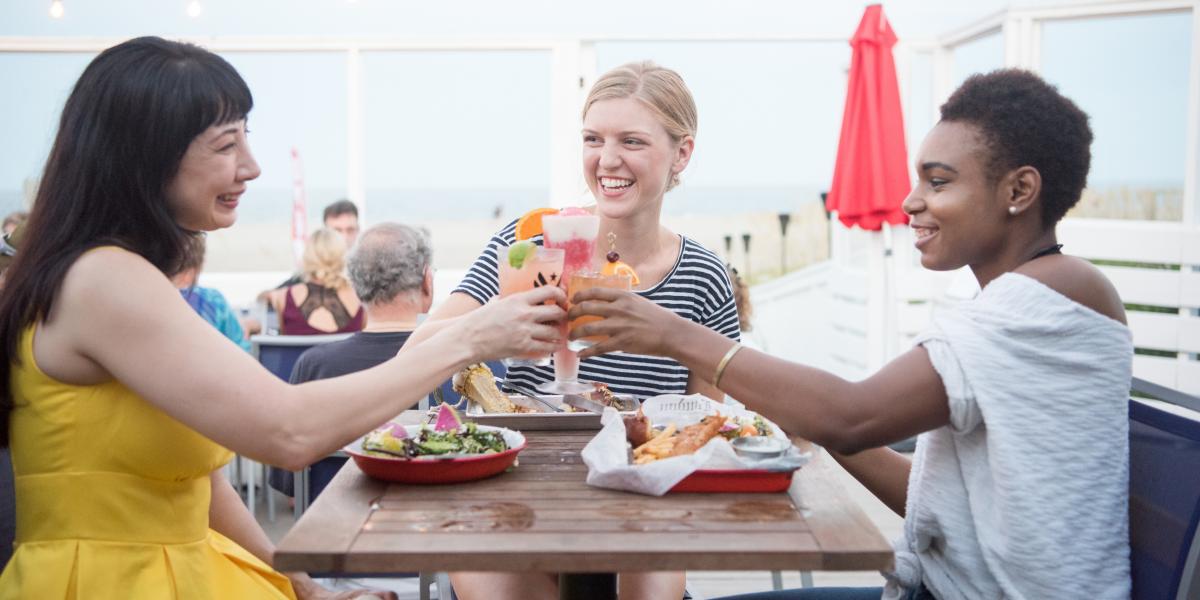 Article
Relish Now. Relive Later.
Enjoy these Tybee Recipes
Breakfast: Tybean Art & Coffee Bar
On your way to the beach, grab a muffin or homemade scone with your coffee, organic fair-trade Numi tea or luscious Tybean Spicy Mocha. Or sit and enjoy this charming beach shack's deck while people-watching at The Shoppes at Tybee Oaks. Open 7:30 a.m. - 12:30 p.m. daily. 
20 oz. drink, served over ice
1 1/2 tablespoons Ghirardelli's sweet milk chocolate or your favorite cocoa 
1/2 tsp. cinnamon 
Pinch of Cayenne pepper
Pinch of chili powder
Melt spices in 3 oz. of espresso. Whisk. Pour in your favorite milk. Whisk some more. Pour over ice. Top with vanilla whipped cream.
Whipped Cream: Add a tablespoon of vanilla syrup or simple syrup into a mixing bowl and add 16 oz. heavy cream. Whisk just until the cream reaches stiff peaks. Store in refrigerator.
Afternoon Sip & Snack: Sea Wolf
Whether you're looking for oysters, gourmet hot dogs or fancy cocktails, Sea Wolf Tybee has you covered. Try the Osso Doggo, a Wagyu beef dog topped with roasted pork, Kalamata olives, onions, feta and parsley. Pairs nicely with champagne!
Wagyu beef hot dogs (shop for local options or try Snake River Farms)
Roasted pork (available at your favorite local barbecue restaurant)
Kalamata olives, sliced
Onions, shaved or chopped
Feta, crumbled
Fresh parsley, chopped
Yellow mustard, optional
Grill or smoke Wagyu beef hot dog, then top with roasted pork, olives, feta, fresh parsley and mustard (if desired). Serve with your favorite kettle-cooked chips, a pickle and a glass of chilled champagne. 
Drinks: Pier 16 Seafood Restaurant
With a rooftop deck overlooking Tybrisa Street, the view is breathtaking. Enjoy fresh-made sangria - by the glass or pitcher. Pick your flavor: peach, watermelon or green apple. Then, let the beach vibes continue with a game of cornhole or giant Jenga. 
1 ounce peach puree
1 ounce Peach Schnapps
4 ounces Moscato
2 orange wheels
Several sliced strawberries
Mix the peach puree, Peach Schnapps and Moscato well with a spoon. Muddle one orange slice and several strawberry halves. Mix into the liquid, then pour over ice and garnish with the other orange slice and strawberries.